Shopify Translation App
Expand to global markets by translating your e-commerce store in a simple, efficient and cost-effective way with our Shopify translation app.
We're trusted by e-commerce leaders such as Airbnb, Google, La Prairie, Dolce & Gabbana, YOOX, and many more.

1.2 million jobs delivered in 194 languages to 200,000+ customers in 40 domains since 1999, helping the most demanding clients to go global.

Localization experts to support your internationalization journey and linguistic services that cover all your future needs.
Key features and benefits
Quick installation and simple management: With just a few clicks, install the translation app and start selling around the world.
Never pay twice: We use translation memories to maintain consistency and ensure that you never pay twice for your translations, even if you have multiple stores.
Quality: Professional linguists, glossaries and quality assurance tools to ensure top-quality translations.
Guaranteed delivery: Transparent forecasts for translation delivery dates to help you plan your global launch in advance and meet your deadlines.
Scalability: Our pool of over 300,000 professional vetted translators allows us to localize even the largest e-commerce stores as quickly as possible in line with market demands. Wherever and whenever you want to start selling around the world, we've got you covered.
Transparency: Full visibility over your spending and the status of your translations.
How the Shopify translation app works: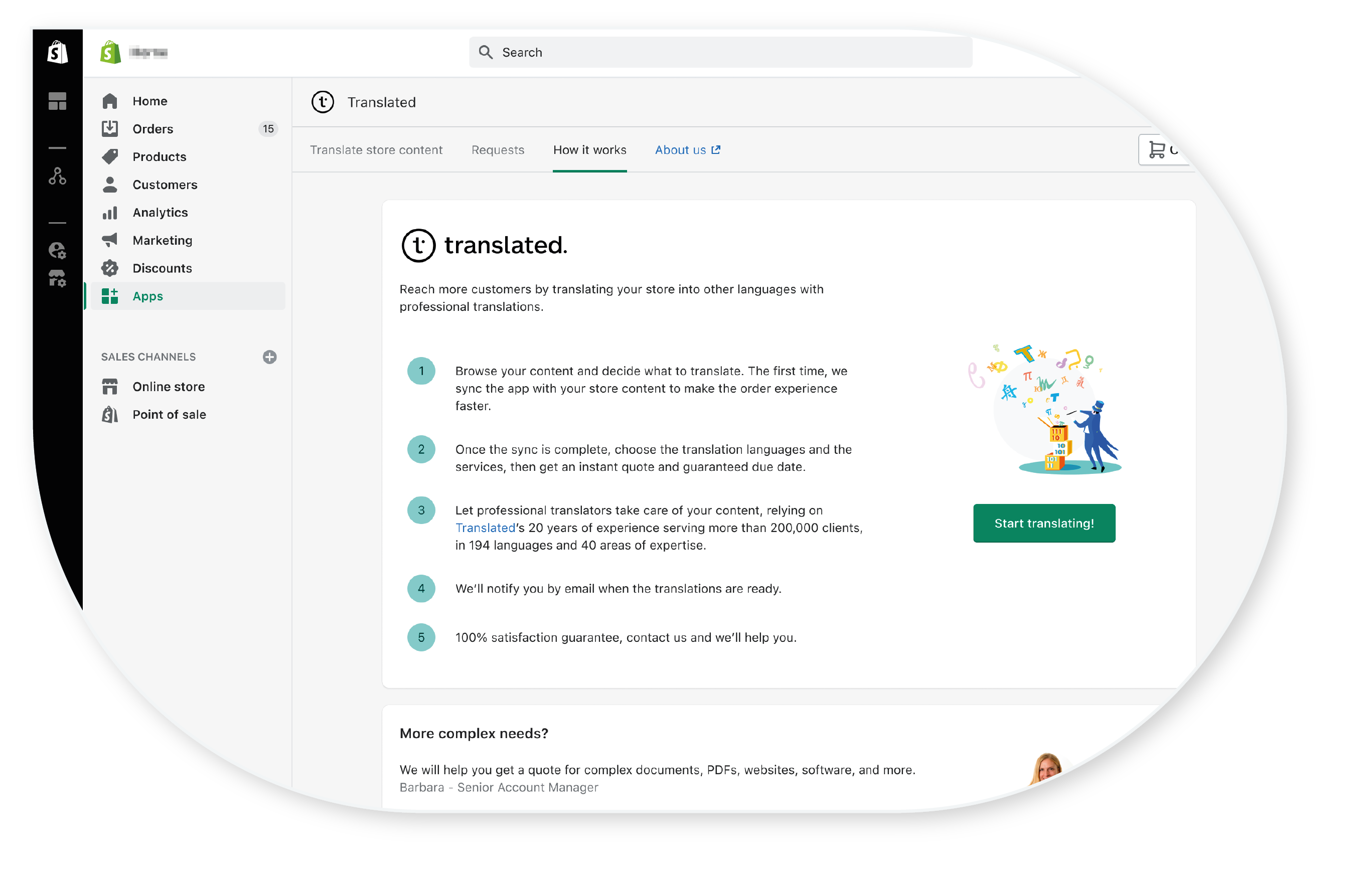 1. Add and install the Translated app
You can find us in the Shopify app store or click here.
As soon as you're done, you'll be able to see Translated in your Apps section.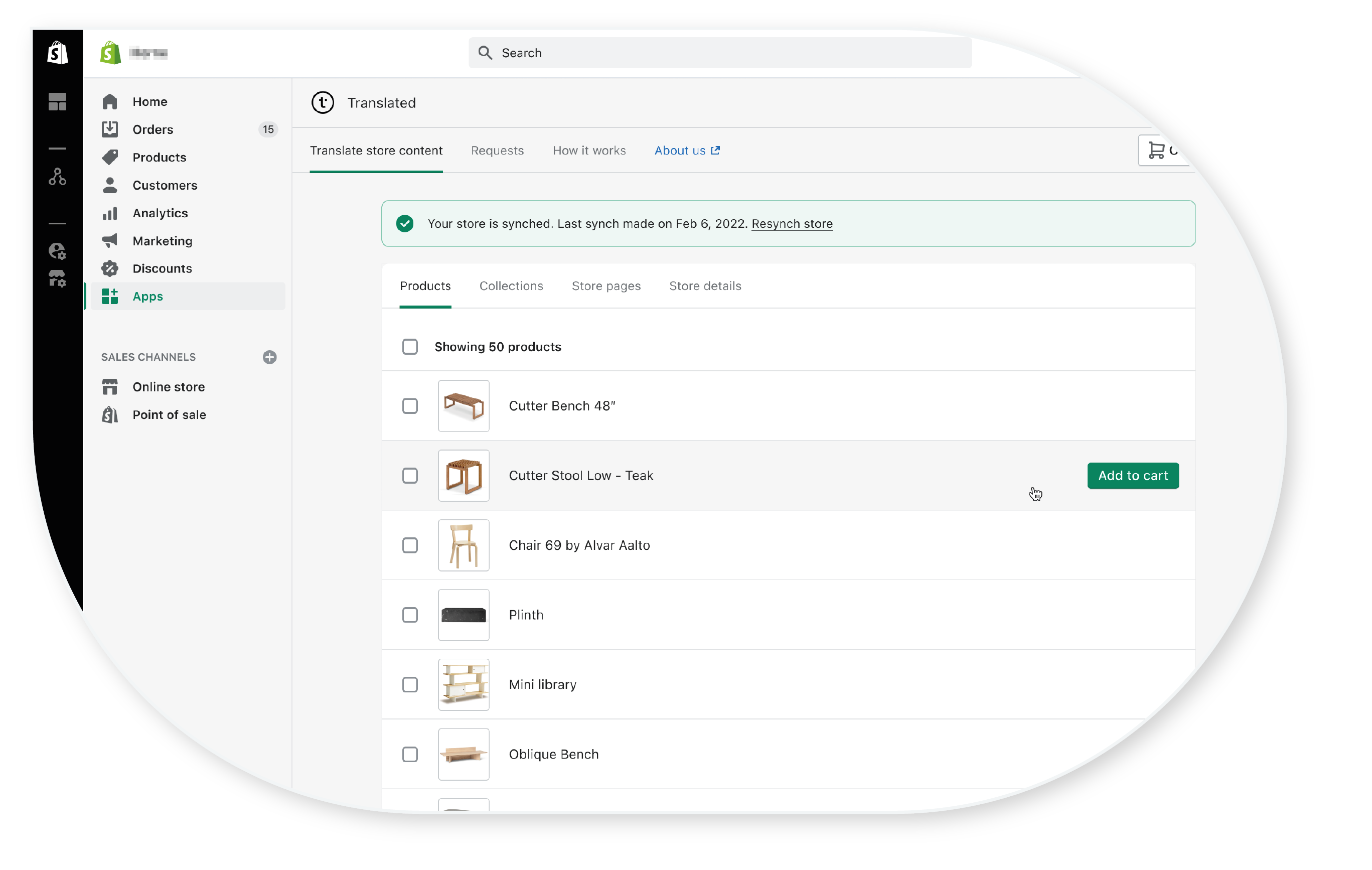 2. Choose the Shopify content
for translation from your Products, Collections, Store pages and store details. Once you're ready, just click the "Add to cart" button.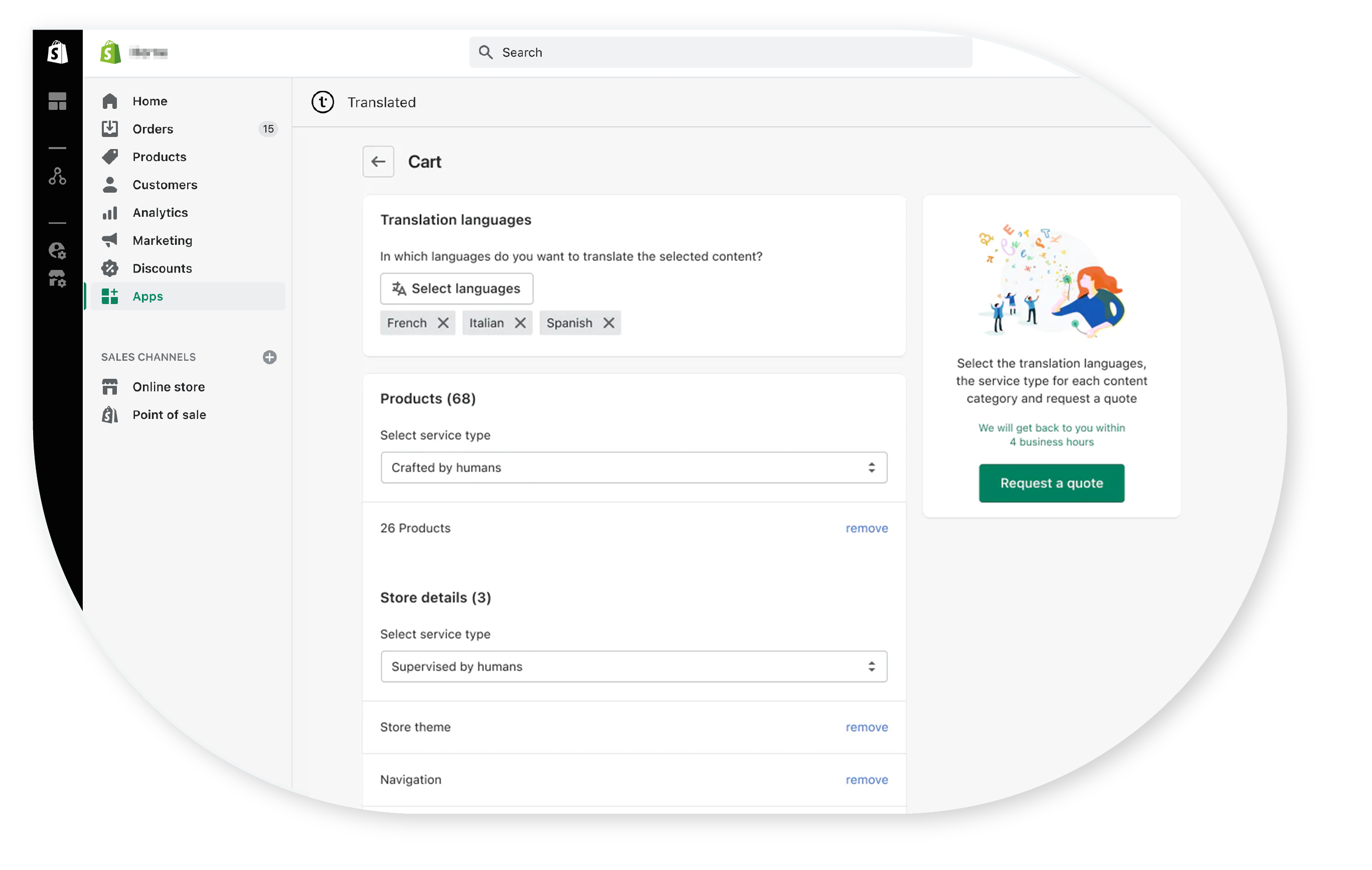 3. Select your target languages and the translation service level
to begin your internationalization journey. We'll generate the quote for you in minutes.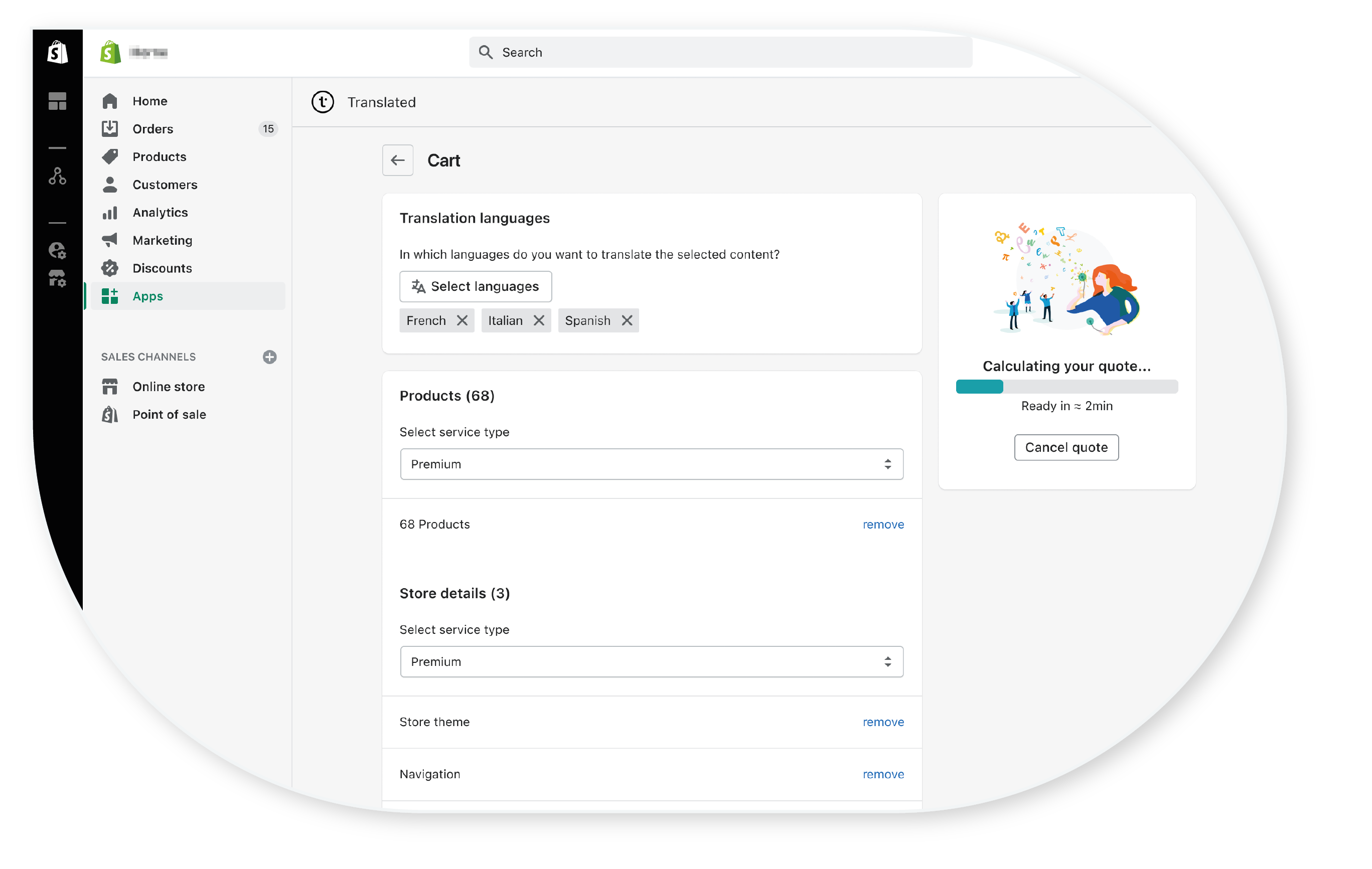 4. Proceed to checkout in one click
You'll see a transparent summary of your order, including:

- Target languages
- Total words to be translated
- Guaranteed delivery date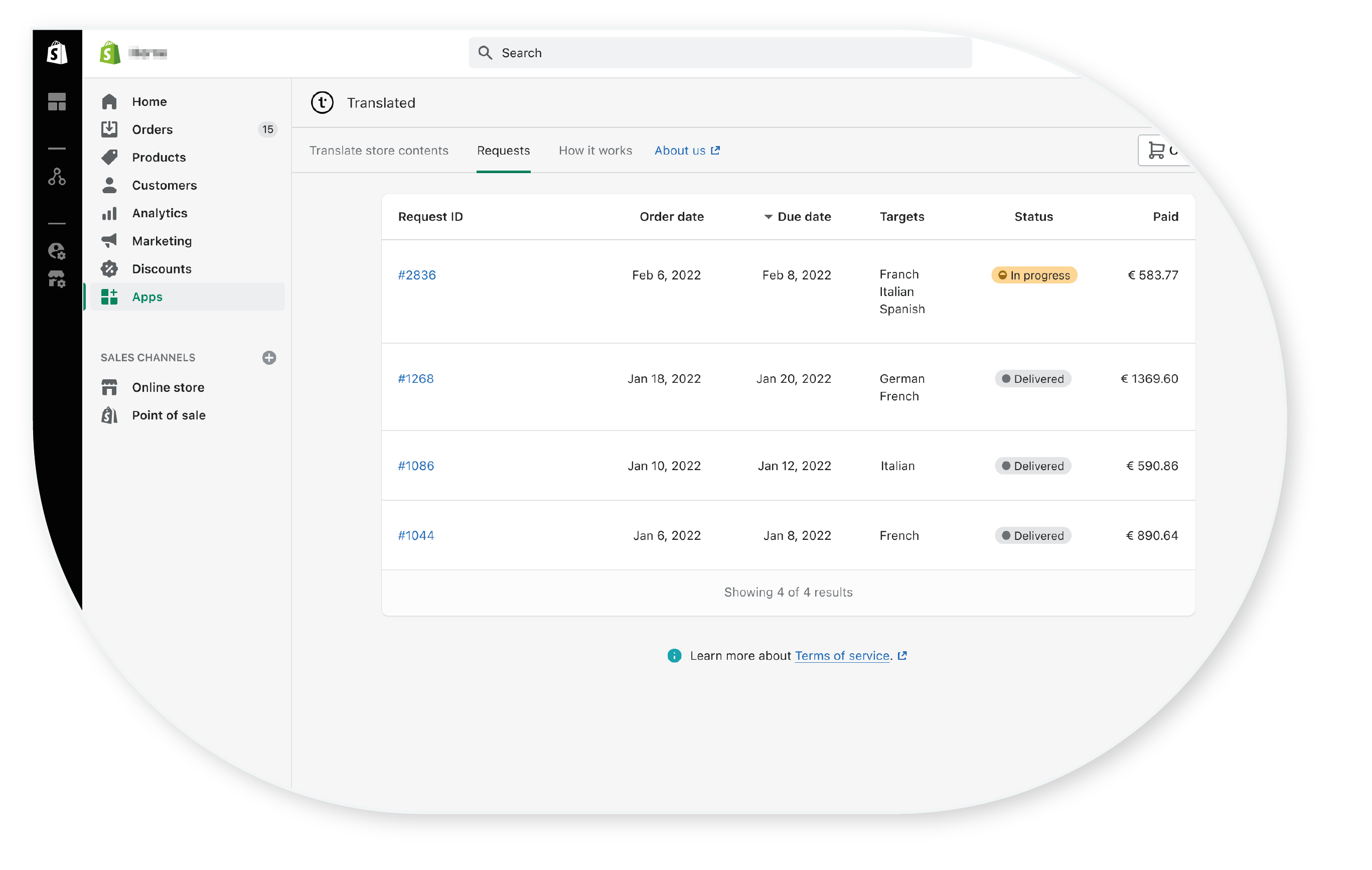 You're done!
Your content has now been sent for translation. Once completed, translations will be delivered directly to your Shopify store.

You can visit the Requests section to see all the orders you have placed and get in touch with us at any time.
More questions? Get in touch.
Our team is ready to find a solution to your translation needs.
Contact us
Which markets are the best place to start selling your products?
Take a look at our T-Index study to identify the most appropriate market-language combination to expand your products globally. T-Index ranks countries according to their potential for online sales and estimates the market share of each country in relation to global e-commerce.